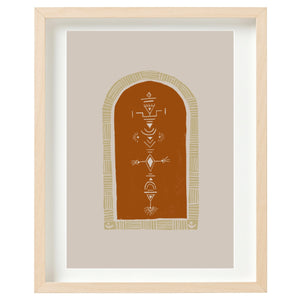 Attend
Sale price Price R 550.00 Regular price
Tax included.
Shipping
calculated at checkout.
Due to such popular demand and customers requesting bigger sizes, I created a digital version of my original mantra prints ,which are hand printed linocuts.
Mantra practice, is widely adopted by many in our modern fast paced societies.
The idea behind my mantra series is for the person looking at the print and its design to notice the title of each work and then think up a personal mantra related to the title. Making these a great personal and unique gift, to give a loved one. At the same time being a great present to yourself.
This print is titled, Inquire and means to search, to question to look inwards. My wish for you is to think about what that means to you or what that resonates with now in your life.
The designs are my own symbolic patterns I have created. Highly inspired by primitive art, ritual and symbolism throughout history and various cultures. The colours and designs are neutral and will easily fit into most interiors.
Size A4-A1 
All prints sold without a frame.
Each print is hand signed and numbered and limited to an edition of 100.