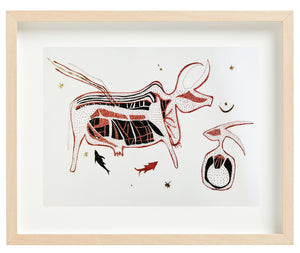 Psychic day dream. Original illustration
Sale price Price R 3,200.00 Regular price
Tax included.
Shipping
calculated at checkout.
Original pen illustration on 300gsm Fabriano cotton paper, with authentic gold leaf detail. 
Psychic Daydream is the first of my new series of original illustrations, inspired by the San Khoi culture and spirituality.
Rituals were a daily practice for ancient cultures, the San people were well known for their cave paintings and representations of trance dances, conjuring their gods for guidance. 

This series of work is my personal reference of animals and symbolism that represents a greater narrative of enlightenment and my personal fascination with the San people.
My wish is to pass a little bit of their great spiritual knowledge on to the person who resonates with the work.