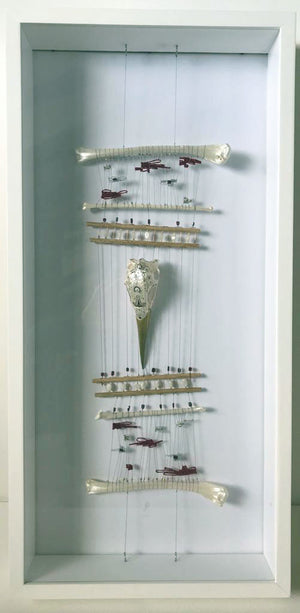 Bone loom
Sale price Price R 6,500.00 Regular price R 8,500.00
Tax included.
Shipping
calculated at checkout.
An Original Art work, my bone loom is a long time vision that has finally been realised. The piece is delicate, clean, sophisticated and was created to give the effect of a sacred artefact. 
'Threadbare' is a mixed media rendition of a modern weaving, my bone loom, the newest edition to a bigger body of work. The materials used include the skull and wing bones of a Cape cormorant, garnet, moonstone, acrylic paint, ink, wire, wood and upholstery thread.
This piece is a statement of the fragility of modern society - my personal reflection on growing up as a young woman in a volatile post-apartheid South Africa. The scarce beads and ever-diminishing thread-work represent the demise of native culture, to the slow emergence of a westernised Africa. An infamous historical culture clash and oppression, with a young generation left in the aftermath, to raise a new South Africa. The tatters of a tapestry embody the threadbare existence many people solemnly endure in this country. The semi-precious stones epitomise the empty promises of wealth and a better social status. 
The bones, of this land, to me are a symbol of the contrast of belonging which I feel here. Never entirely accepted as a native even though born here, clutching at the distant ghosts of ancestry, trying to find my place. My English, white South-African upbringing was mostly devoid of ancient indigenous traditions, yet I have grown up, swirling in a cultural 'potjie'- left to fit in, in the shadows of our colonising forefathers.
This work is ultimately a testimony to my current feelings living in South Africa.