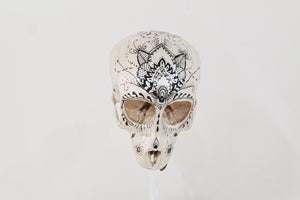 vervet monkey skull
Sale price Price R 2,000.00 Regular price R 320.00
Tax included.
Shipping
calculated at checkout.
The vervet monkey is a cheeky little critter. Encased in a large bell jar the aesthetic of this piece leaves you with a nostalgia of visiting a museum. 
All skulls are of natural death and collected by a game ranger or found by the artists herself, properly cleaned via a taxidermist and layered with many layers of pearl paint, illustrated on in black Indian ink and then sealed with a high gloss lacquer. Assuring high quality and a life long guarantee.  
Paying homage to her love for symbolism the skulls are adorned with intricate illustrations and symbols that the artist creates in a meditative state. Meditative drawing is a way to tap into the subconscious mind and let the marks flow onto the skulls surface intuitively.  
" I like to think about what character the animal might have had and let that be translated through my markings." 
Skulls are able to be shipped worldwide, shipping needs to be individually calculated. 
 1.5kgs
Glass bell jar: height: 39cm width: 16cm