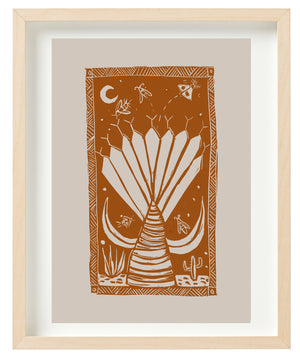 Art print - Ground
Sale price Price R 550.00 Regular price
Tax included.
Shipping
calculated at checkout.
Due to such popular demand and customers requesting bigger sizes, I created a digital version of my original linocut prints. 
Ground is a linocut print, this is a digital version of the original. This print is the second in my spirit flora series and speaks of the necessity to ground ourselves to root to feel secure in where we are. It's my interpretation of a palm cactus.   

The designs are my own symbolic patterns I have created. Highly inspired by primitive art, ritual and symbolism throughout history and various cultures. The colours and designs are neutral and will easily fit into most interiors.

Size A4-A1 
All prints sold without a frame.
Each print is hand signed and numbered and limited to an edition of 100.