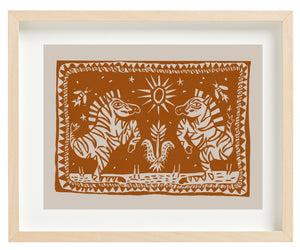 Art print- Unity
Sale price Price R 550.00 Regular price
Tax included.
Shipping
calculated at checkout.
Due to such popular demand and customers requesting bigger sizes, I created a digital version of my original linocut prints. 
The design was inspired by an idea I had for a series of wishes I wanted to bestow upon our country and society. Unity being an issue we all need to work on addressing if we wish to see a better future throughout our world. 
The designs are my own symbolic patterns I have created. Highly inspired by primitive art, ritual and symbolism throughout history and various cultures. The colours and designs are neutral and will easily fit into most interiors.
Size A4-A1 
All prints sold without a frame.
Each print is hand signed and numbered and limited to an edition of 100.