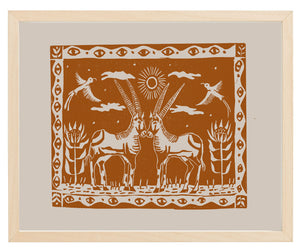 Art print - Protect
Sale price Price R 550.00 Regular price
Tax included.
Shipping
calculated at checkout.

Due to such popular demand and customers requesting bigger sizes, I created a digital version of my original linocut prints ,which are hand printed and available on this site in limited sizes please have a look under prints for all print options.
 
Protect, is the third print of my African animal series, it is a hand carved linocut print, this print is a digital version of the original.
Each print is signed and numbered and sold without a frame. 
 
The design was inspired by an idea I had for a series of wishes I wanted to bestow upon the people our country and society. Protect is about our basic need for security  and how this is often violated. It looks at how important it is to support one another. All the elements of my designs are inspired by folklore and primitive art. 

The designs are my own symbolic patterns I have created. Highly inspired by primitive art, ritual and symbolism throughout history and various cultures. The colours and designs are neutral and will easily fit into most interiors.
 
Size A4- A1
Each print is hand signed and numbered and limited to an edition of 100.