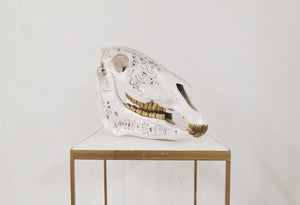 Zebra skull
Sale price Price R 6,300.00 Regular price R 8,250.00
Tax included.
Shipping
calculated at checkout.
I have yet to come across a more elegant skull than that of the African zebra.
The sheer size of it is impressive, your eyes are then lead to the smooth contours and delicate shapes of the actual skull.
A perfect feature piece for any entrance hall, desk, or master room. Can be displayed flat on a table or on a plinth. 
Over five coats of pearl acrylic paint encapsulate the skull giving it a truly ethereal appearance. Each line and dot carefully placed by hand in fine black ink, the patterns are mirrored gracefully onto each side of the skull, completely spontaneously. The artist follows the natural shape of the skull when drawing the patterns and uses symbolism to portray what she thinks might relate to the spirit of the animal. Gold paint is applied to the teeth of the skull to give it a regal finish. Varnish is then applied to the skull to set all designs firmly in place, also offering a protection against any moisture and to ensure maximum durability.
All Skulls are a product of natural death, 
Weight - 2.9kgs 
Size: Height- 33cm Width- 24cm Length- 54cm 
Paying homage to her love for symbolism the skulls are adorned with intricate illustrations and symbols that the artist creates in a meditative state. Meditative drawing is a way to tap into the subconscious mind and let the marks flow onto the skulls surface intuitively.  
" I like to think about what character the animal might have had and let that be translated through my markings." 
Skulls are able to be shipped worldwide, shipping needs to be individually calculated.